Passport Designs Sound Chaser kit
30/03/12 21:09 Filed in:
Music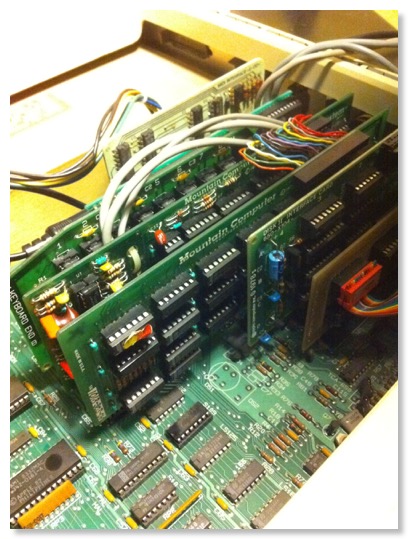 Passport Design's famous Sound Chaser. This only just pre-dates midi. Midi was introduced just a little later but then started dominating the market and these types of products slowly disappeared and midi rapidly took over. It took me a while to get this all up and running. At first I tried to get it running on an Apple IIgs but had no luck. I think there are too many changes with the Apple IIgs's hardware and the Mountain Music System cards seems to just roll over and die. Makes a sort of humming sound and thats about it.
With my Apple IIe I have had no problems. Even the light pens seems to work. Amazing technology for the early 1980's.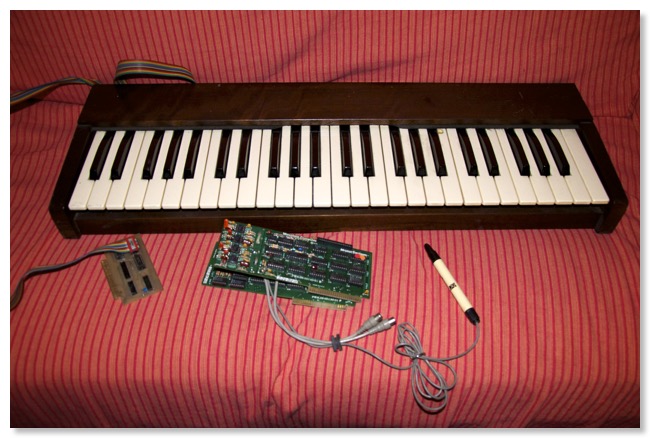 Pretty much all the software that came with this kit worked the first time I fired it up. It also came with all the original manuals and paper work. Its in great shape and has some amazing retro 8 bit sounds. The manual reads "The MusicSystem hardware has sixteen digital oscillators. Each of the sixteen oscillators generates a waveform that is completely programable. These waveforms may be simple as sine waves or very complex. " I wonder if Pink Floyd played with these?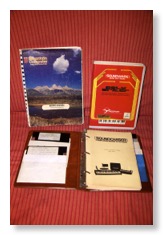 I've managed to hook it up to my Mackie mixer and get it digitally recorded in Logic Pro Studio. These are the two Mountain Computer Music System cards that drive the Sound Chaser.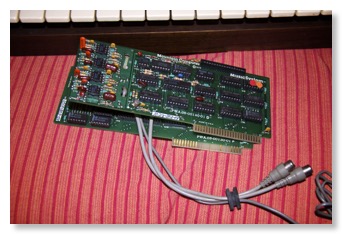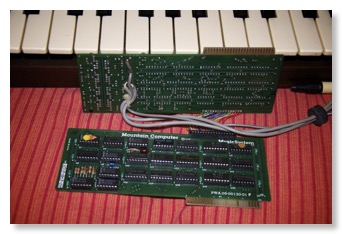 This is the interface card for the keyboard. It must be placed in slot 7 according to the manual. I've tried it in another slot and yes the manual is right. It must be placed in slot 7.