Syntech midi interface card arrives
13/05/12 01:11 Filed in:
Music
This was probably the longest eBay auction I have ever done. I won't go into details here as its too crazy to blog. Just imagine everything that could possible go wrong went wrong. In the end it did arrive and it's working perfectly.
The Syntech midi interface card, from what little information available on the internet is 100% Passport Designs compatible. It has midi in, midi out connectors plus tape in tape out. It came with no documentation so I don't really know too much about it. I don't even know how it was originally sold. Any information most appreciated.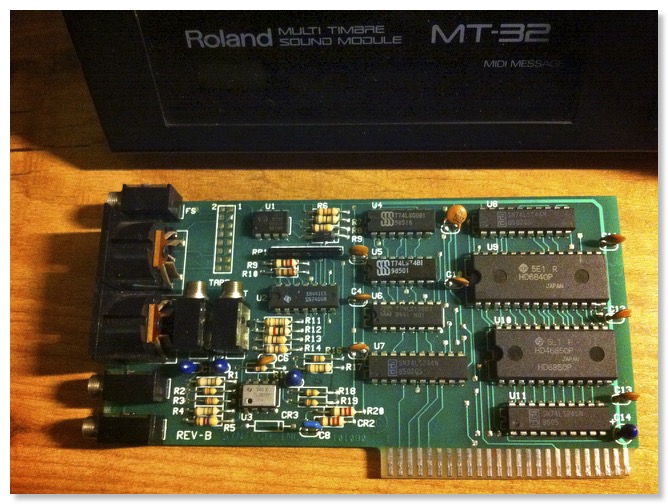 I just had to test it with Ultima V. Absolutely stunning. I connected it to my Roland Sound Canvas 8850 and mapped the instruments. Unfortunately it only allows for one midi channel and one instrument per song. You can get around this by using Logic Pro Audio and placing various instruments on the same channel. This way building up the richness of the song by adding more sounds. Whilst testing I just used the Sound Canvas's instrument bank as this was more than sufficient. These are the configuration screens you are presented with once Ultima V detects the card.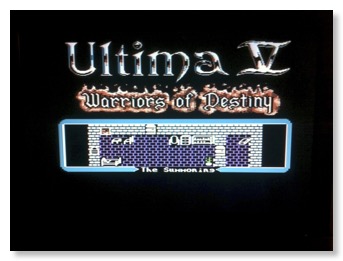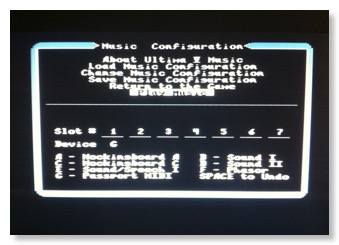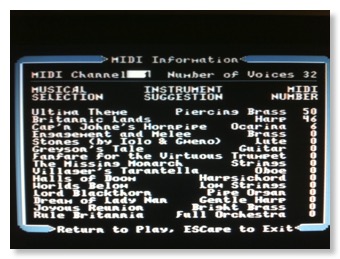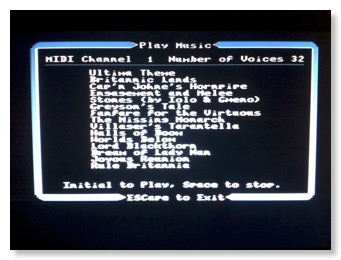 Once you have mapped your instruments you can save the configuration to disk allowing for fast opening upon your next game play. Here are a few samples of the music played via an Apple IIe with the midi interface card connected to a Roland Sound Canvas SC8850 and recorded in Logic Pro Audio
UltimaTheme
DreamofLadyNan
WorldsBelow
From what I read this was the last Ultima game to be programmed for the Apple II. I can see why. This really pushed the Apple II to the limits. I'll continue to test this card with other programs and report my findings here.